Promote Your Board Certification
Congratulations on attaining your ABFAS Board Certified status! This is a major professional achievement and a career milestone, and the American Board of Foot and Ankle Surgery (ABFAS) salutes foot and ankle surgeons who display the dedication and surgical knowledge necessary to achieve Board Certification.

ABFAS is proud of its Diplomates. Communicating your Board Certification to patients, employers, colleagues, and the general public will enhance your reputation and standing.
ABFAS Advertising Policies
The Board of Directors has adopted policies to assist in communicating and advertising ABFAS status appropriately and professionally: distinct Advertising Policies for Diplomates and for those holding Board Qualified and candidate statuses. All advertising should convey professional values, attitudes, and demeanor. These polices can help protect and enhance the public image of foot and ankle surgery.
Board Qualified and candidate statuses are not official categories, so surgeons who hold these statuses should not use these terms in advertising or public-facing documents.
Diplomate Toolkit: Share your Board Certification Status
ABFAS created a toolkit of assets for Diplomates to promote their Board Certification online, in the office, and in the community. Whether you're newly Board Certified, updating your website, or developing your social media strategy, here are some tools you can use.
Display Your Certificate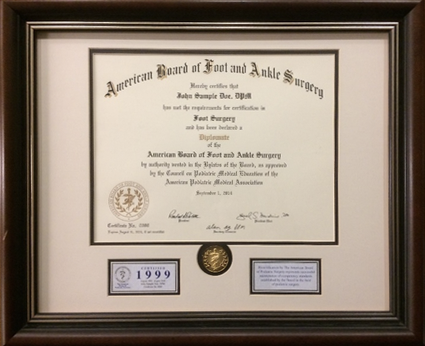 In recognition of achieving Board Certified status, ABFAS will provide you with a complimentary framed certificate when you achieve Board Certification in Foot Surgery , and another if you achieve Board Certification in RRA Surgery.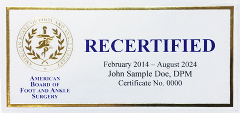 Diplomates who complete the LEAD program requirements at the end of their Board Certification cycle will receive an updated recertification label(s) for their framed certificate which indicates that the Diplomate's Board Certification is valid for an additional ten-year period.


Trademark Agreement
Contact ABFAS to execute a trademark agreement in order to use ABFAS' Licensed Mark and to promote your board certification.

ABFAS Patient Brochure Order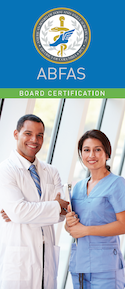 ABFAS offers a tri‐fold brochure to help patients understand the extensive training involved in Board Certification. The brochure fits in standard literature displays.
ABFAS sells the brochure in packets of 100; $30 for 100 brochures. To order by credit card, please complete this form and scan and email it to info@abfas.org or fax it to 415.553.7801.
If paying by check, please complete the form, print it and then either fax the form to 415.553.7801 or scan/email to info@abfas.org. If you prefer, mail to:
American Board of Foot and Ankle Surgery
445 Fillmore Street
San Francisco, CA 94117