Promote Your Certification
Note: ABFAS is transitioning its ten-year Maintenance of Certification programs to the LEAD program, a process of continuous certification based on a longitudinal assessment. All diplomates, regardless of certification year, will participate in the new program starting in 2022, and at that time ABFAS will no longer conduct recertification/self-assessment examinations. Learn more on the LEAD program webpage.
Share your Certification Status - Tools You Can Use
Whether you're newly certified, updating your website, or developing your social media strategy, here are some tools you can use.
Congratulations! You've worked hard to achieve board certification. We want to help you share this important milestone in your career with your colleagues and community.
Display Your Certificate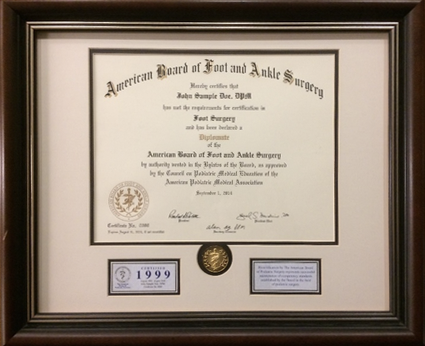 In recognition of achieving Board Certified status, ABFAS will provide you with a complimentary framed certificate when you achieve Foot certification, and another if you achieve RRA certification.

Trademark Agreement
Contact ABFAS to execute a trademark agreement in order to use ABFAS' Licensed Mark and to promote your board certification.

Recertification Labels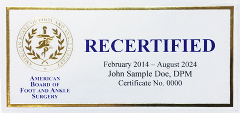 Diplomates who pass the Foot and/or RRA Recertification Examination(s) will receive an updated label(s) for their framed certificate which indicates that the Diplomate's board certification is valid for an additional 10-year period.