Image Submission Requirements
The following general requirements apply to every image you upload as part of complete case documentation. Noncompliance with image requirements and instructions may result in rejection of case documentation, with no opportunity to resubmit missing materials. Appendix E provides further information.

Image Format
Submit all images, regardless of original format, in JPG, JPEG, or PNG format. ABFAS reserves the right to examine, on site, images stored on the imaging equipment hard drive to determine that submitted images have not been altered. If it is determined that images have been altered, you will forfeit, at minimum, the right to sit for the examination and all fees paid.
Image Clarity
All images must be clearly readable.
Ensure that the reviewer will be able to clearly identify all pathology, fixation, and bone healing within the image. Note: Unreadable images may lead to rejection of procedures and/or failing the case.
Three Views for MRI and CT Images
For MRIs and computerized tomographic (CT) images, submit individual images of a minimum of three views clearly demonstrating pathology or findings. (See below for radiographs/plain films.)
Required Radiographic Images
Select appropriate views for each procedure listed below. Identify each image and label with the patient's name and the date of imaging. "Best two views" must demonstrate appropriate surgical pathology and outcome, e.g., axial calcaneal and lateral view for calcaneal osteotomy or fracture ORIF, AP and Lateral WB view for metatarsal osteotomies. You may submit up to ten (10) images per category. Radiographs that best show final healing are most helpful for review.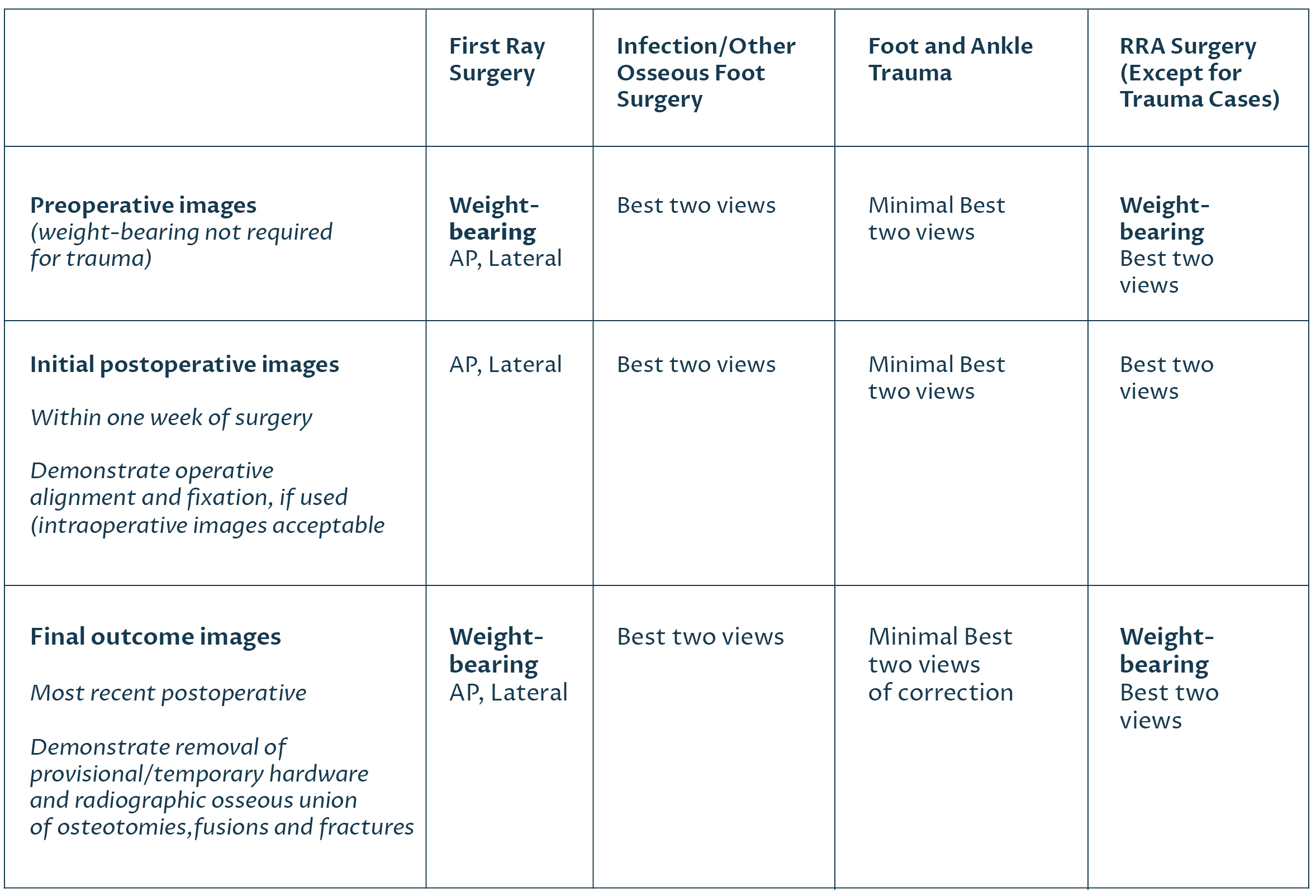 Appendix E: Uploading Images into Podiatry Logging Service (PLS) for Surgery

One of the major areas of concern for candidates preparing their board certification case documentation is images. Indeed, unreadable or inappropriately uploaded images are frequently cited in the Case Review process. The following information can assist you in preparing suitable images for uploading with your case documentation.
Hard Copy Images (including MRI and CT)
Use a lightbox to photograph the image.
Capture the entire image; do not crop or zoom in. Include patient identifying information if possible.
Pictures can be taken with a digital camera or a good mobile phone camera. Do not scan the x-ray.
Check the picture carefully. It should be as clear as the original. If it is not, retake until satisfied (a few attempts with different exposures may be necessary).
Save the pictures to your computer. The preferred format for saving is "JPG". If you do not have that option, you may save it as "JPEG" or "PNG."
Digital Images
Download the image from your system to your computer or a flash drive. Save it in "JPG" format. If "JPG" is not an available option, then save it in "JPEG" or "PNG" format.
Do not take a picture of the image from a monitor or computer screen.
General Upload Instructions
Follow ABFAS instructions carefully.
Be sure all images are labeled with the patient's name and date taken on the image. If your EMR deletes this information or it is unreadable on your picture, place a text box in the image and type in the patient name and date the image was taken.
How Do I Place a Text Box?
Place a text box in Microsoft Paint: Click "Open With" from the menu bar, and hit the text button "A" to insert a text box. Click, "Save."
Place a text box in Preview on a Mac: Go to the View menu, select "Show Edit Toolbar," then select the text tool to insert a text box. Click, "Save."
Be sure all uploaded images are of the correct patient and procedure.
Be sure to upload images into the correct section on PLS (pre-op/immediate post-op/final)
Make sure you include weight-bearing pre-op and weight-bearing final images with First Ray and RRA cases.
Trauma cases do not require weight-bearing pre-op images.