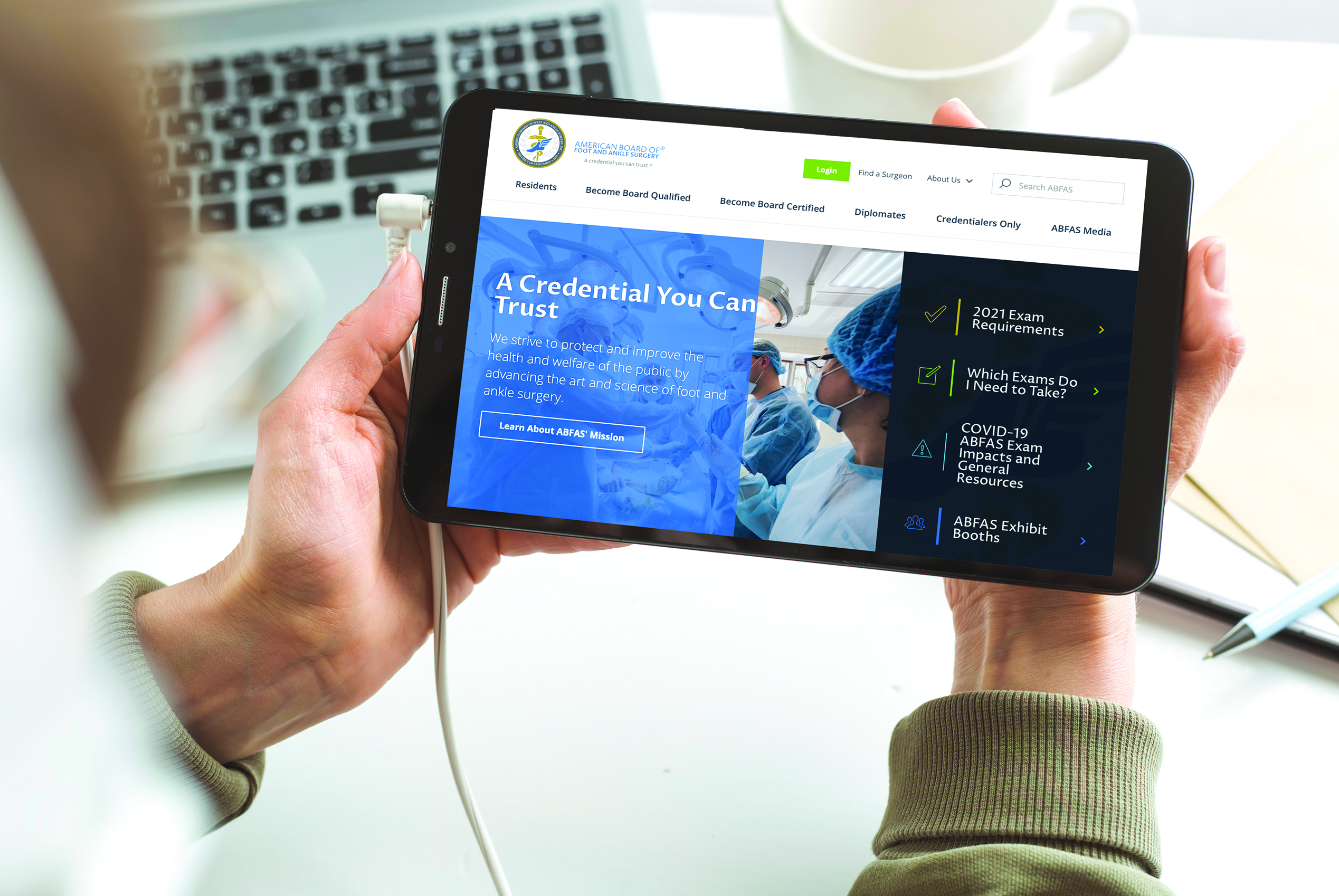 LEAD: Longitudinal Education and Assessment for Diplomates
ABFAS is transitioning its ten-year Maintenance of Certification programs to a process of continuous certification based on a longitudinal assessment—a new process wherein Diplomates will answer a set number of questions per quarter and get immediate feedback on their performance. When the program goes live in 2022, ABFAS will replace its recertification and self-assessment examinations with the new program LEAD: Longitudinal Education and Assessment for Diplomates.
The ABFAS Board of Directors appointed a task force to work on this change in 2018 and anticipates implementation in 2022.
ABFAS' mission is to protect public health. Prior to certification, we focus on ensuring high standards in foot and ankle surgery. Post-certification, we augment our mission by also supporting Diplomates in keeping their knowledge, judgement, and skills current over the course of their careers—and the LEAD program represents a powerful new tool to help ensure the continued success of board-certified foot and ankle surgeons. The public benefits by ABFAS Diplomates participating in LEAD.
ABFAS' desire to explore alternatives to the traditional, once-every-ten-year recertification and self-assessment examinations represents an exciting new method of keeping current on knowledge relevant to foot and ankle surgery and stems from recent trends in the recertification processes for member boards of the American Board of Medical Specialties (ABMS).

Currently, ABFAS is engaged in the LEAD pilot program with about 500 participants. Upon completion of the pilot, all Diplomates, regardless of certification year, will participate in the new process starting in 2022. ABFAS staff will be in contact with all Diplomates over the next few months as we prepare everyone for the new program.
Questions about the ABFAS shift to Continuous Certification can be directed to continuouscertification@abfas.org. Or feel free to call the ABFAS team at 415-553-7800.
Frequently Asked Questions
ABFAS has prepared a question-and-answer webpage that lists several questions Diplomates frequently ask about the shift to the new LEAD program of Continuous Certification.

How Continuous Certification will Benefit Diplomates
The program features several innovations designed to make certification easier for Diplomates:
a continuous, self-paced online assessment instead of a traditional recertification or self-assessment examination

a set number of questions to answer each quarter, anytime and from anyplace, using a computer, tablet, or smartphone—with no need to travel to a testing center

instant feedback on questions including the correct answer, rationale, and references, enabling Diplomates to identify potential knowledge gaps

an easy-to-understand standard demonstrating whether each Diplomate is keeping current on knowledge relevant to foot and ankle surgery
In addition to the new online continuous certification process, ABFAS will still require Diplomates to meet existing maintenance of certification requirements such as CE credits and proof of hospital/surgical privileges. More information is forthcoming.
What Continuous Certification Means for Diplomates
All ABFAS Diplomates will begin participating in the Continuous Certification Program in 2022.

All ABFAS Diplomates will participate in the program during the ten years of their certification or self-assessment cycle.

Participation will not require excessive time commitment, and ABFAS has designed the program to provide flexibility for busy surgeons to engage…anytime and from any place.

For Diplomates with time-limited certificates (certified after 1990), full participation in the program will renew certification dates.

For Diplomates with lifetime certificates (certified before 1991), full participation in the program will maintain active certified status.
The Concept of Continuous Certification
Concepts behind the change:
Promoting continuous, lifelong learning

Improving Diplomates' experience of the certification process

Providing an assessment that is relevant to Diplomates' practices

Incorporating principles of adult learning theory

Enhancing validity of assessment results through continuous assessment

Improving relevance by providing feedback opportunities

Timeline for the Change to Continuous Certification
September 2019: ABFAS advised all Diplomates that the change was in the works, conducted a Diplomates survey, and invited pilot program volunteers.
September 2019 to September 2020: ABFAS officers, committee members, and staff designed the look and feel of the exam process, developed questions for LEAD, and made preparations for the pilot program.
October 2020: ABFAS formally invited Diplomates to pilot the program, eventually identifying a closed group of about 500 participants.
December 2020: In the wake of the cancellation of 2021 recertification and self-assessment exams due to the COVID-19 pandemic, ABFAS rolled all Diplomates in the final year of their certification or self-assessment cycles into the pilot program.
January 2021: ABFAS launched the pilot program. Participants are currently testing the new online portal and system and providing feedback to ABFAS on both the testing process and the exam question content.
When the pilot program concludes at the end of 2021, ABFAS will launch the new continuous certification process in early 2022.
What Diplomates Can Do Now to Prepare for Continuous Certification
ABFAS will email Continuous Certification-related announcements and details to Diplomates. To ensure they are receiving ABFAS emails, please:
Add continuouscertification@abfas.org and info@abfas.org to your email inbox safe sender list. Instructions are available online.
Log in to your ABFAS profile and, if necessary, update your personal information, including your email address.