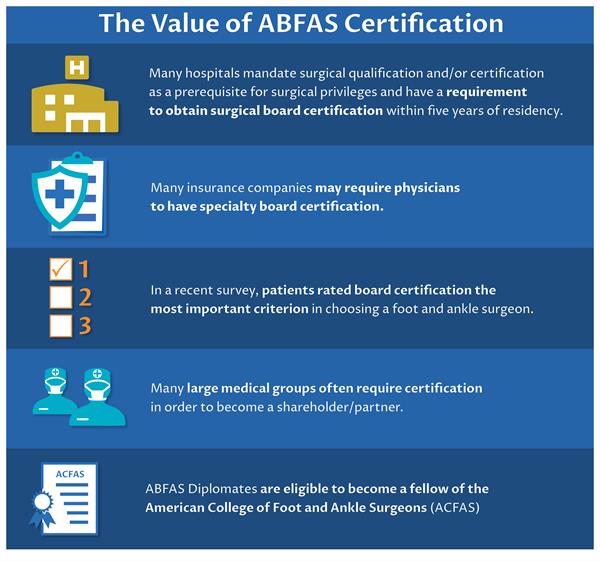 Why ABFAS Certification?
4 Reasons ABFAS Board Certification Matters
ABFAS is the recognized authority in Foot and Ankle Surgery Board Certification, due to their continued focus on excellence and high standards for certification. With ABFAS Certification comes esteem within the field as it sends a clear signal to patients, industry peers, and hospitals that you are among the most qualified foot and ankle surgery.
Most hospitals and insurance companies require board certification within five years of residency.
Studies show that board certification is the top consideration when patients select a foot and ankle surgeon.
Board certification may lead to employment and advancement opportunities as you demonstrate your desire to practice at the top of your field.
Authority
ABFAS is the only Foot and Ankle Surgery Certification Board recognized by the Council on Podiatric Medical Education (CPME) through the Specialty Boards Recognition Committee (SBRC).

Certification is a Frequent Prerequisite
Board Certification for surgeons has increasingly developed more relevance to students, residents, other diplomates, and hospital systems, as the credential is increasingly required to practice and train.
Many hospitals mandate surgical qualification and/or certification as a prerequisite for surgical privileges and have a requirement to obtain surgical board certification within five years of residency.
Additionally, insurance companies may require physicians to have specialty board certification.
ABFAS Board Certified surgeons are highly skilled and knowledgeable and with this highly respected certification are seen as the experts in the field of foot and ankle surgery.
It Matters to Patients
Patients seek the commitment to safety, expertise, quality of care, core values, compassion, and patient-centered care reflected by professionals who have obtained board certification.
In a recent survey, patients rated Board Certification as the most important criterion for choosing a foot and ankle surgeon.
Board Certification gives patients peace of mind, as Board Certified surgeons participate in assessment and training beyond what is required of their non-certified peers, while continually improving on the care they deliver to patients.
Patients value the fact that ABFAS Board Certified surgeons participate in Continuous Certification for continued or enhanced competence, enabling surgeons to continue to train and learn on the job, while providing the highest level of care for their patients.

It Can Help You Further Your Career
Board Certification brings increased recognition by peers and respect of colleagues in the profession while conveying your skill and your professional competence.


85% of residency directors are ABFAS Board Certified.
Large medical groups often require certification to become a shareholder/partner, which may lead to improved opportunities for employment and advancement, as well as better compensation and career longevity.*
Certification demonstrates a surgeon's desire to practice at the top of their field, resulting in the increased professional trust from employers and the public.
*Institute for Credentialing Excellence, Value of Certification Statement, 2019.