ABFAS Partners with Podiatry Students
October 18, 2022
Recognizing the vital role the student pipeline plays in ensuring the future of podiatry, ABFAS has partnered with the
American Podiatric Medical Students Association
(APMSA) to help ensure the future of the profession. The APMSA is the only organization that serves and connects the students at the ten US podiatric medical colleges. ABFAS sees the potential in reaching this audience of 2,000+ students and has signed on as an APMSA Advocate Partner.
The sponsorship allows for numerous points of cross-pollination between ABFAS and APMSA throughout the year, including opportunities to interact with the APMSA Board of Trustees and work directly with students on content for
Footnotes
, the APMSA publication. Profiles of ABFAS Diplomates appear in each issue. ABFAS will also support travel costs for APMSA delegates to attend the APMA National and ACFAS Scientific Conference annually.
In addition to this dedicated allocation for APMSA, ABFAS continues to provide ongoing support in other avenues of student recruitment, sponsoring the APMA's student recruiting efforts, the
Step Into Podiatry
program. ABFAS also provides financial and speaker support to the APMA Young Physicians' Institute and to the annual ACFAS Student/Resident Networking Event.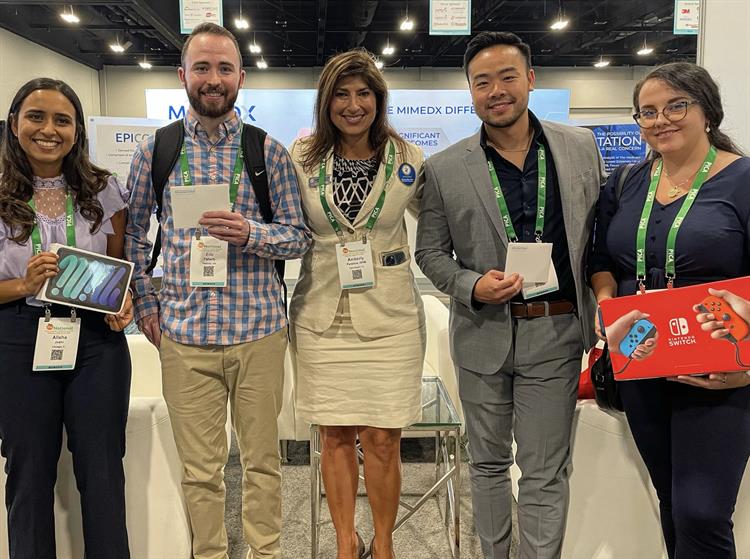 Congratulations to the winners of the ABFAS Young Physicians raffle at the 2022 APMA National, sponsored by ABFAS! ABFAS President Amberly Paradoa, DPM, D.ABFAS, (center) kicked off the National by drawing names to win raffle prizes, including (from left) an iPad Mini for Alisha Joshi, American Express gift cards for Eric Flaherty and Brian Wong, and a Nintendo Switch for Ksenja Llazar.