October 17, 2022

New Board Officers and Directors
ABFAS conducted elections for three open Board of Directors positions in Spring 2022, announcing the results in May. One incumbent, Michelle L. Butterworth, DPM, D.ABFAS, of South Carolina, rejoined the board. Joining the board for their first terms are Dustin L. Kruse, DPM, D.ABFAS, of Colorado and Diana E. Rogers, DPM, D.ABFAS, of Illinois. All three members have terms that began on September 1, 2022 and will end on August 31, 2025.
The ABFAS Board of Directors also elected its new officers for the 2022-23 term, with terms in effect as of September 1: President Jeffrey L. Giesking, DPM, D.ABFAS, of Wisconsin; President-elect Nicole A. Bauerly, DPM, D.ABFAS, of Minnesota; and Dr. Butterworth as Secretary/Treasurer.
Amberly C. Paradoa, DPM, D.ABFAS, of Florida has assumed the role of Immediate Past President.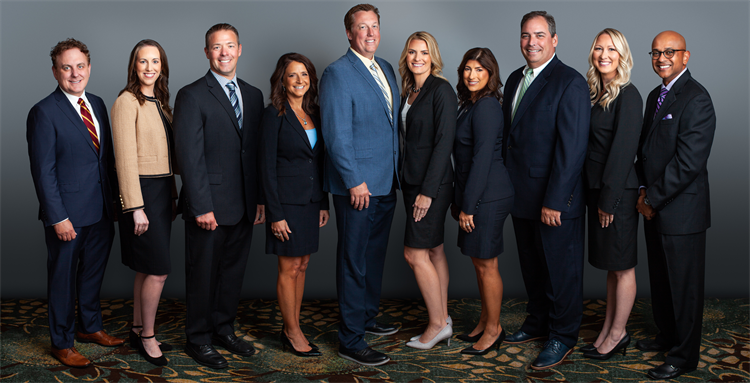 The 2022-23 ABFAS Board of Directors. From left: ABFAS Director Michael D. Dujela, DPM, D.ABFAS; ABFAS Director Katie M. Swanstrom, DPM, D.ABFAS; ABFAS Director Dustin L. Kruse, DPM, D.ABFAS; ABFAS Secretary/Treasurer Michelle L. Butterworth, DPM, D.ABFAS; ABFAS President Jeffery L. Giesking, DPM, D.ABFAS; ABFAS President-elect Nicole A. Bauerly, DPM, D.ABFAS; Immediate Past President Amberly C. Paradoa, DPM, D.ABFAS; ABFAS Director John T. Marcoux, DPM, D.ABFAS; ABFAS Director Diana E. Rogers, DPM, D.ABFAS; and ABFAS Director Roland S. Ramdass, DPM, D.ABFAS.

New Committee Members
In Winter 2022, ABFAS released its once-every-three-years Call for Volunteers. 223 generous Diplomates responded to volunteer their time and expertise. The ABFAS review process resulted in more than 60 new volunteers participating in ABFAS committees, guaranteeing the organization can continue to uphold high standards in assessments and effectively communicate with associations, podiatrists, hospitals and health systems, and patients.

While some of these new volunteers are now members of the Communications Committee, Case Review Committee, and Didactic Examinations Review Working Group, the lion's share are new item writers for the Part I Didactic exams and LEAD.


Strengthening the ABFAS Candidate Experience
Over the last several years, ABFAS volunteers and staff have worked hard to improve the process of Board Qualification and Certification: allowing residents to convert passed Final-year In-training Exams for Board Qualification, for instance, and the elimination of the Part II CBPS exam.

Building on that positive momentum, in 2022 we continued to strengthen the experience of ABFAS Board Certification candidates. ABFAS reorganized the committees involved in the item writing process, separating the writers from the reviewers, which will allow for a larger, more diverse group of subject matter experts to be involved. The increased number of item writers will help ABFAS meet the demand for the Didactic and LEAD exams. Finally, realignment will also allow the Continuous Certification Committee to focus solely on policy.

In addition, ABFAS has changed the digital system it uses for item development. Switching to the new system will make for a simpler, more user-friendly experience for item writers and reviewers.

Since its 2020 Practice Analysis—a standard practice for certifying boards—ABFAS has focused on increasing transparency and communicating more directly about ABFAS examination content. In 2022, many months of work came to fruition as ABFAS took live major revisions to the content of the Part I Board Qualification examinations, updating its website with a breakdown of the content of both the Didactic exam and the NEW CBPS exam. Candidates will also find revised preparation resources on the ABFAS website, including new practice exams for both the Didactic and NEW CBPS exams.

ABFAS overhauled the Podiatry Logging Service (PLS) this year, and DPMs who log their cases will find that PLS now offers a user-friendly, responsive design, streamlined navigation, and a new drag-and- drop feature for documentation upload.

Protecting the Profession
This Spring, ABFAS and partner organizations the American Podiatric Medical Association (APMA), the Washington State Podiatric Medical Association, and the American College of Foot and Ankle Surgeons, addressed an inaccurate and misleading presentation delivered by an orthopedic surgeon at a meeting of the Washington state association. The presentation maligned the skills, training, and expertise of foot and ankle surgeons.

More recently, ABFAS joined other leading podiatric organizations and colleges, including the APMA and Council on Podiatric Medical Education, in expressing serious concerns about the American Board of Podiatric Medicine's (ABPM) decision to issue a new, unrecognized certification in podiatric surgery and the potential confusion it may cause among patients and hospitals. We joined other leaders in asking ABPM to delay its new CAQ until the profession's Specialty Board Recognition Committee concludes its rulemaking process, which begins in November.