Marking the Service of Longtime ABFAS Volunteer Albert Burns, DPM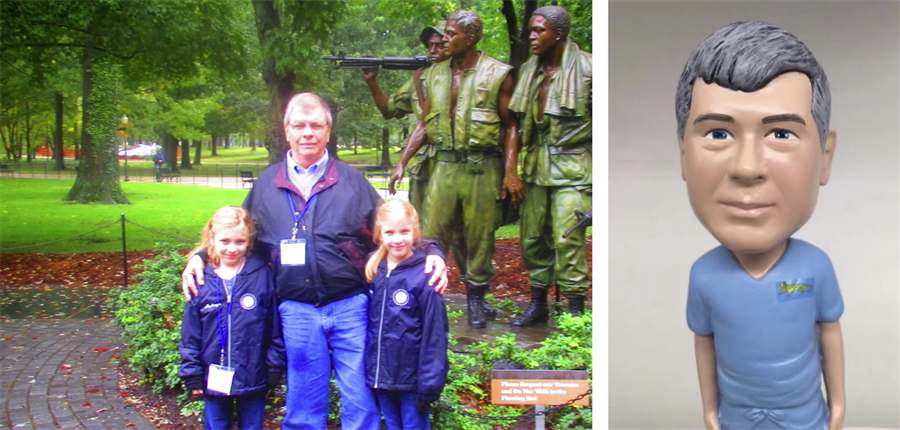 At left, Albert Burns, DPM, with his daughters. At right, to mark his years of service, ABFAS presented Dr. Burns with a bobblehead in his likeness!

November 4, 2021

By John Venson, DPM, Martin Pressman, DPM and Sarah Schneider, DPM

Following service with the U.S. Army that included a tour in Vietnam, Albert Burns graduated in 1978 from the California College of Podiatric Medicine (CCPM, now CSPM), completed his residency training in 1980, and achieved certification with the American Board of Podiatric Surgery (now ABFAS) in 1982.

In addition to his private practice in Pacifica, California, Dr. Burns has held a longstanding dedication to the education of podiatric students and residents. At CCPM/CSPM, Al has served as a residency director, professor of surgery, and chair of the Department of Surgery. From 2002-08, Al served as Dean of CSPM while navigating the school's merger with Samuel Merritt University in Oakland.

In his spare time, Dr. Burns has authored numerous articles and lectured widely, while also serving the profession through the American Association of Colleges of Podiatric Medicine (AACPM), Council on Podiatric Medical Education (CPME), and Joint Committee on the Recognition of Specialty Boards (JCRSB), among others.

Dr. Burns has been a valued member of the ABFAS community since 1984, when he began service on the Credentials Committee. He served on, and was chair of, both the Oral and Written Examination Committees. Never shy about sharing his opinion, Al was elected to the ABPS Board of Directors in 1992, serving as President from 1996-97. The ultimate volunteer, Al has served on every examination committee.

Dr. Burns loves to travel and explore new places. He has returned to Vietnam multiple times on medical missions. While he enjoys visiting isolated tropical locales, Scotland is his favorite country to visit. Not only does Dr. Burns have Scottish heritage, but he also enjoys that country's spectacular golf courses, as the game has been a passion since he was a child. When visiting a new country, Dr. Burns must always see what is around every corner and over every hill—and of course, he always wants to eat what the locals eat!

He now resides in San Diego, CA, where he devotes most of his time to raising his twin daughters, who share his love for travel, golf, swimming, and dogs. They enjoy long walks with their 90 pound American Staffordshire Terrier named Pretty Girl. Living close to the ocean, Al likes to relax by watching the sunset with a good bottle of Cabernet Sauvignon.

One final memory: no one who was present will ever forget the now-legendary moment in ABFAS history when Dr. Burns and colleagues were visiting Costa Rica and a four-foot iguana leapt onto Al's chest at breakfast to look at him eye to eye.