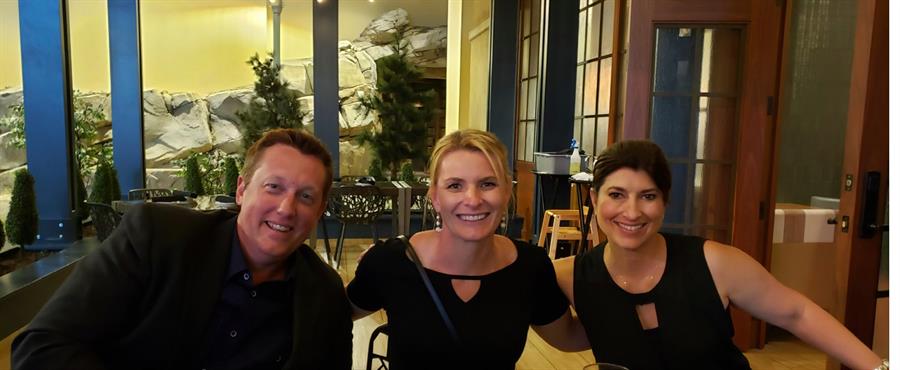 Incoming ABFAS officers attend the American Podiatric Medical Association (APMA) Annual Scientific Meeting in Denver in July 2021. From left, President-elect Jeffery L. Giesking, DPM; Secretary/Treasurer Nicole A. Bauerly, DPM; and President Amberly C. Paradoa, DPM.

November 15, 2021

In 2021, ABFAS continued to provide service to Diplomates and candidates while taking steps to keep its volunteers and staff safe during the time of COVID-19. As the pandemic wears on, ABFAS has normalized many of the precautions put into place in 2020, taking in stride the necessary alterations to the normal cycles of exam development and testing.

The ABFAS office in San Francisco reopened on October 1, 2021, with staff on staggered schedules and practicing masking and social distancing while in the building. CEO/Executive Director Katherine Kreiter continues to solicit staff input and ABFAS will continue to adjust to conditions as they evolve.

The staff is happy that the COVID-19 adjustments we have made have allowed us to get our work done, and we look forward to taking advantage of some of our new processes as we return to working together in person.

New Board Officers and Directors

ABFAS conducted elections for three open Board of Directors positions in Spring 2021, announcing the results in May. One incumbent, Nicole A. Bauerly, DPM, of Minnesota, will rejoin the board. Joining the board for their first terms are Michael D. Dujela, DPM, of Washington and Roland S. Ramdass, DPM, of Virginia. All three members have terms that began on September 1, 2021 and will end on August 31, 2024.

The ABFAS Board of Directors also elected its new officers for the 2021-22 term: President Amberly C. Paradoa, DPM, of Florida; President-elect Jeffrey L. Giesking, DPM, of Wisconsin; and Dr. Bauerly as Secretary/Treasurer. William R. Adams, DPM, of Kentucky has assumed the role of Immediate Past President.

Positive Changes in the Certification Process

In 2020, ABFAS began allowing residents to count passed Final Year In-training Exams (ITEs) toward Board Qualification, replaced the Part I Computer-based Patient Simulation (CBPS) exams with the NEW CBPS exams (one each for foot surgery and reconstructive rearfoot and ankle (RRA) surgery), and eliminated the Part II CBPS exams.

This slimming-down effect resulted in a streamlined Board Qualification and Certification process for candidates. What's more, these efforts have already borne fruit; 100 candidates passed all four ITEs in the Fall of their final year of residency, with eight more months before completing their programs: the Foot Surgery Didactic, NEW Foot Surgery CBPS, RRA Surgery Didactic, and NEW RRA Surgery CBPS. These candidates are already well on their way toward Board Certification in Foot and RRA Surgery.

Imminent Launch of Continuous Certification

In addition to its customary work of revising and administering Board Qualification and Certification exams and aiding candidates through the process, ABFAS volunteers and staff have turned much of their energy toward the imminent transition from the now-retired Recertification and Self-assessment exams to the LEAD Continuous Certification program. Participants are preparing to move into the final stage of the LEAD pilot program, while staff members are putting finishing touches on the online LEAD interface for Diplomates.

ABFAS wants the transition to be as seamless as possible for Diplomates, so the organization has also engaged in a major communications campaign to equip Diplomates with the information and resources—much of it featured in these pages—they will need to thrive in the new LEAD program when it launches in January 2022.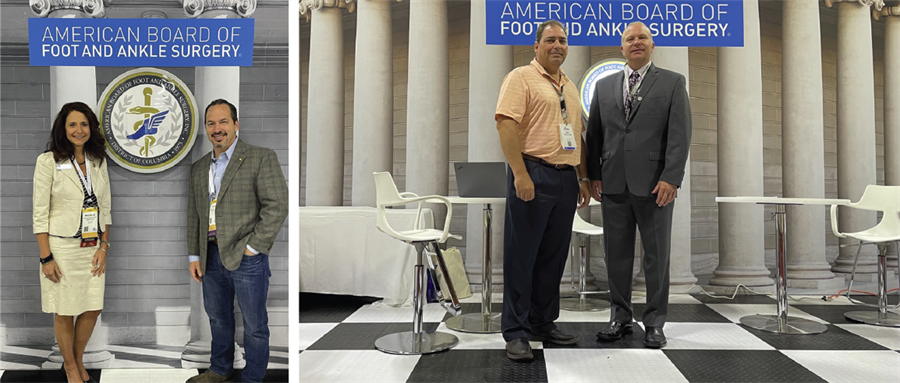 From left to right: Michelle Butterworth, DPM, and Christopher Lotufo, DPM, greeted visitors to the ABFAS booth at the ACFAS Annual Scientific Meeting in Las Vegas in May 2021. In July 2021, John Marcoux, DPM (left) and ABFAS President William Adams, DPM, were on-hand to say hello at the APMA meeting in Denver.