Certification Changes, Coming Fall 2020
Starting in September 2020, candidates seeking ABFAS certification will experience changes in the certification process.
How the Changes Will Affect You
With fewer examinations, the ABFAS certification process has been simplified
The new process will save candidates time and money
Candidates will be able to use their passing ITE score for qualification purposes upon payment of a qualification fee
Changes to the PGY 1 & 2 in-training examinations will provide residency directors with additional knowledge on how their residents are progressing
Process Changes to the In-training Examinations
First and Second Year Residents (and Third Year Residents in Four-Year Residency Programs)
Residents will take separate foot surgery and reconstructive rearfoot and ankle (RRA) surgery didactic (90 items) and CBPS exams (8 cases).
Final Year Residents
Residents will take an 80 item didactic exam and the NEW 12 case CBPS exam for both Foot and RRA. Residents who pass any component of their final year ITE will be able to use their passed exam for ABFAS board qualification purposes.
Process Changes to the Part I Board Qualification Examinations
Board Qualified Candidates who have taken the current 8 case CBPS examination will still need to take two exams to achieve board certification. These exams include Case Review and another CBPS exam, the NEW CBPS. The NEW CBPS examination, made up on 12 cases, is not the psychometric equivalent of the current 8 case CBPS examination.
Candidates who become board qualified by passing their final residency year ITE or the Part I Didactic examination along with the NEW CBPS examination will need to take only Case Review to become board certified.
Overview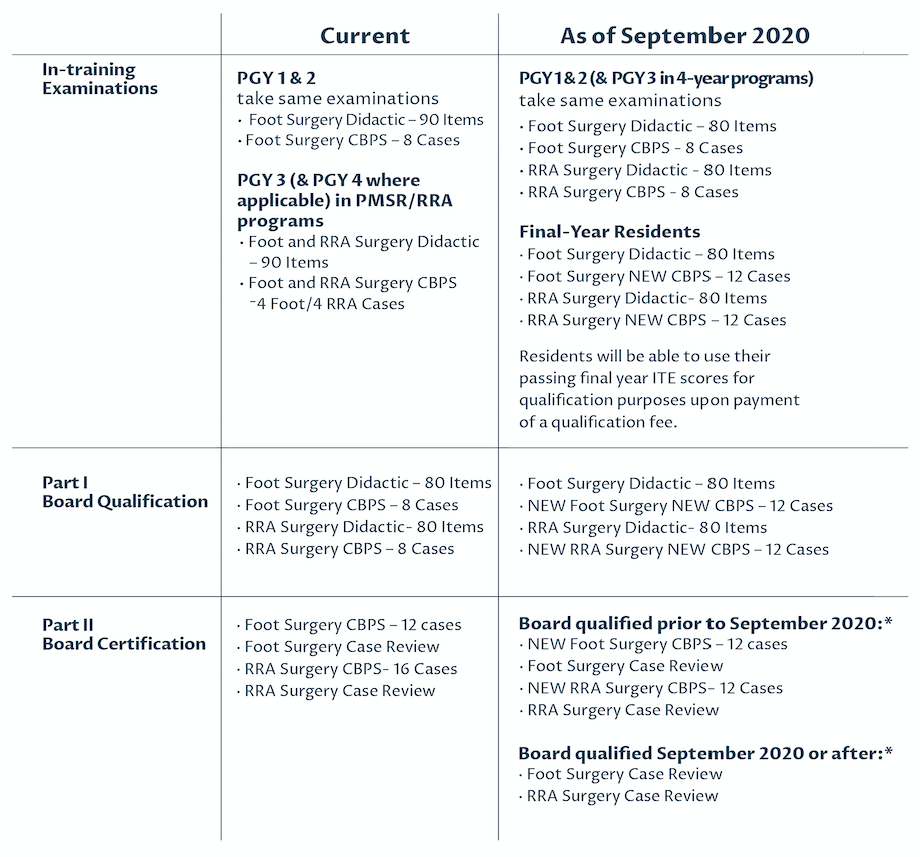 * If you are, or become, Board Qualified before September 2020, under the current Part I examination requirements, you will still need to fulfill the current Part II exam requirements to become certified (passing the Part II CBPS and Case Review).
If you take the CBPS exam to become certified in Spring 2020 - you will take the current version of the Part II CBPS examination (12 Foot Surgery/16 RRA Surgery cases). If you choose to wait until after Spring 2020 - you will take the NEW CBPS exam (12 Foot Surgery/12 RRA Cases).